The Veranda is located at Lot. 10, Brgy. Western Bicutan, Taguig City.
The Veranda is part of the vibrant and exciting new Arca South development in West Bicutan barangay, Taguig City, southern Metro Manila. Arca South is a 74-hectare mixed-use development that is poised to transform the former Food Terminal Incorporated, the previous 70s-era government warehousing and food processing facility, into a new lifestyle hub consisting of retail and residential developments, corporate offices, the 265-room hotel and a private hospital.
Taguig City is easily accessible from other parts of Metro Manila, with its efficient and well-organized road and transportation systems. Arca South is located a mere 5 kilometres away from the Metro Manila financial district of Bonifacio Global City (BGC), and only 7 kilometres from the Makati CBD. Ninoy Aquino International Airport (NAIA) is conveniently located only 4.7 kilometres away.
Arca South will boast its own transportation hub - a new, five-hectare multimodal terminal called the South Integrated Transport System (ITS) will be built by Arca South Integrated Terminal Inc, another subsidiary of Ayala Land. The six-storey terminal will be equipped to handle about 160,000 passengers daily with state-of-the-art centralized ticketing facilities, information displays, passenger waiting areas, retail outlets and a car park.
Residents of The Veranda can therefore opt to 'park and ride', parking their cars within the ITS carpark and travel into the city using public transport. This environmentally-friendly option is already being practised in many other major cities in the world, and it has been proven to be effective in easing traffic congestion and lowering city pollution rates. This system will make it easy to get to work and elsewhere from The Veranda.
Arca South will also have its own estate management system to oversee traffic, transportation, security. Most excitingly, the development will include numerous green spaces, bicycle lanes pedestrian walkways to maximize convenience and enhance residents' quality of life.
Mr Stephen Comia, project development manager at Ayala Land, says: "Arca South will be a conducive environment for people to live, work, or visit, with all its conveniences and strategic access and links. The estate management systems will help ensure a lifestyle of efficiencies similar to other premier lifestyle and business destinations."
The Veranda is located in Block 10 of Arca South, and is poised to become one of Manila's most exclusive residential addresses, thanks to its prime location, outstanding features and amenities, and easy access to nearby schools, hospitals, entertainment and leisure facilities.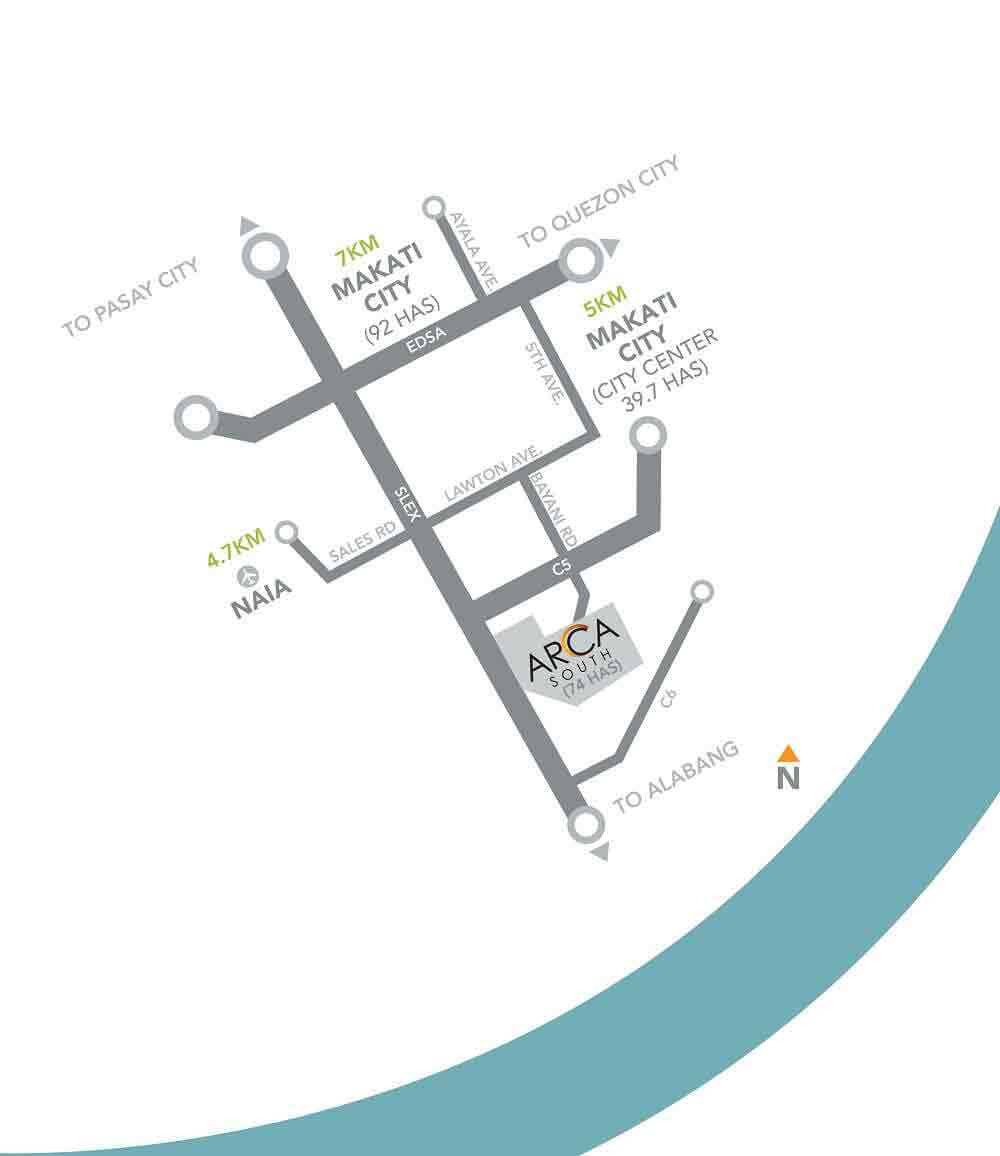 The Veranda is conveniently located for easy access to many nearby educational institutions, including several international schools:
The Mother of Perpetual Help
Technological University of the Philippines
Polytechnic University of the Philippines Taguig
St Francis of Assisi College System
Philippine Public Safety College
British School Manila
Everest Academy Manila
International School Manila
The Japanese School Manila
STI College
Hansarang Christian Academy
Gracel Christian College Foundation Inc.

For the little ones, there are also preschools and elementary schools, all within approximately one kilometre or less from The Veranda:
Regis Montessori (0.8km away)
Little Ranch Learning Center (1.16km)
Tenement Elementary School (0.39km)

As for healthcare facilities, the Taguig City government prioritizes easily affordable and readily available medical care - all Taguig residents enjoy a 40 per cent fee discount in the city's public hospitals. For residents of The Veranda, there are numerous public and private hospitals located a convenient and easy distance from the condominium:
The Qualimed Hospital
St. Luke's Medical Centre-BGC
Fort Bonifacio General Hospital
Taguig District Hospital
Maharlika Health Center
South Signal Health Center
Upper Bicutan Health Center
Central Signal Health Center
Muslim Hospital

At The Veranda, you will never have to go very far to get to business, entertainment, shopping and leisure facilities. The location of this development means that there are a multitude of malls, supermarkets and other attractions located within easy distance:
Arca South Corporate Centre
Ayala Malls at Arca South
Sunshine Plaza Mall
SM Hypermart FTI
Puregold FTI
Bonifacio High Street at BGC
The Mind Museum
Philippines Veterans' Museum

For those who prefer to eat out, there are also restaurants and eateries nearby:
McDonald's
Le Burgeria
Tropical Hut Hamburgers
Bundatan
Terrys Bulaloha